My Quilts
I 'messed' with quilting from the age of 9 upwards,
but it is only as an adult that it has become a serious hobby.
<![if !vml]>
<![endif]> 1988/94
Fiona's Quilt. Took 6 years, on and off. Mostly off :-) The front is made of over 1000 squares, all hand-stitched together.
It has polyester batting, to allow for harder wear and washing. It is single divan bed size.
<![if !vml]>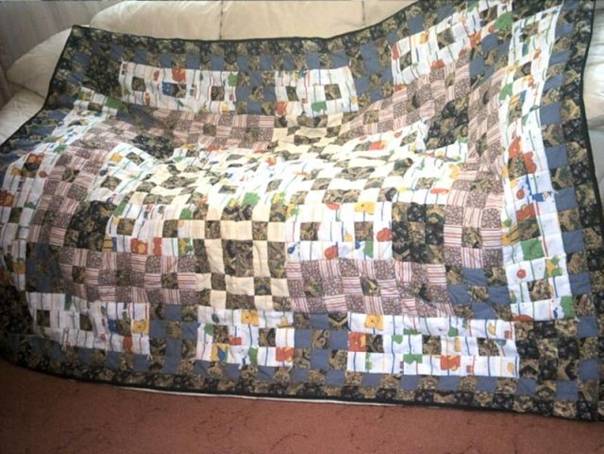 <![endif]>1994/96
Caitlin's Quilt. Also all hand stitched. Took me only 2 years - I was more on than off this time! Again single divan bed size.
<![if !vml]>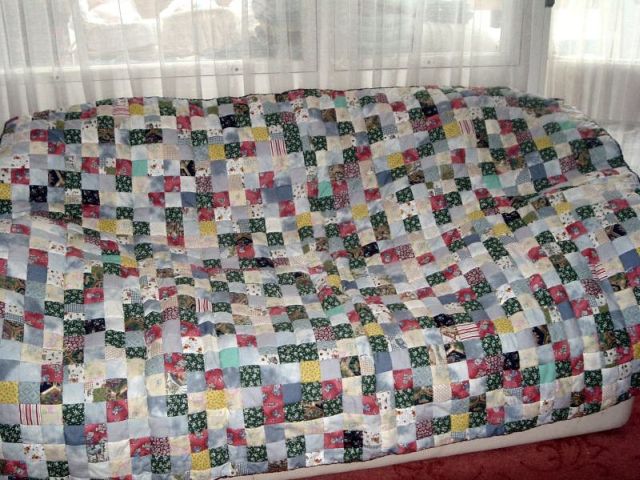 <![endif]>2005
Andrew's Quilt. Single divan bed size, and put away for when he's in a big bed! All hand stitched. Took me just 6 months, despite being the same
size as Fiona and Caitlin's. More time on my hands with not working, see? So that filled 2/3rds of my so-called pregnancy 'rest'. Then I was bored...
<![if !vml]>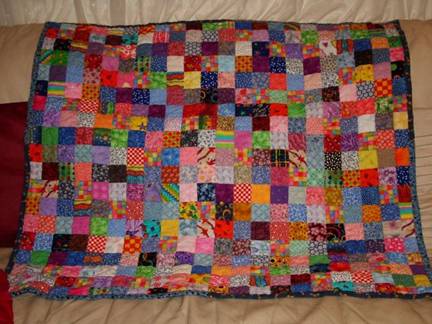 <![endif]>  <![if !vml]>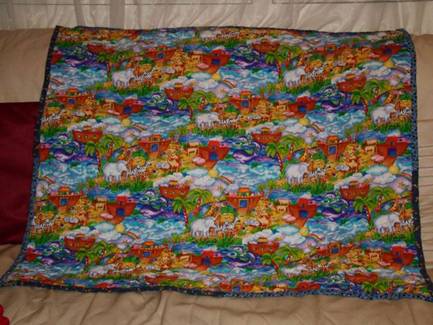 <![endif]>2005
... so I made this cot quilt. It too is all hand stitched, and I call it 'Noah's Ark' due to the backing material. It was now that I began to use cotton batting.
<![if !vml]>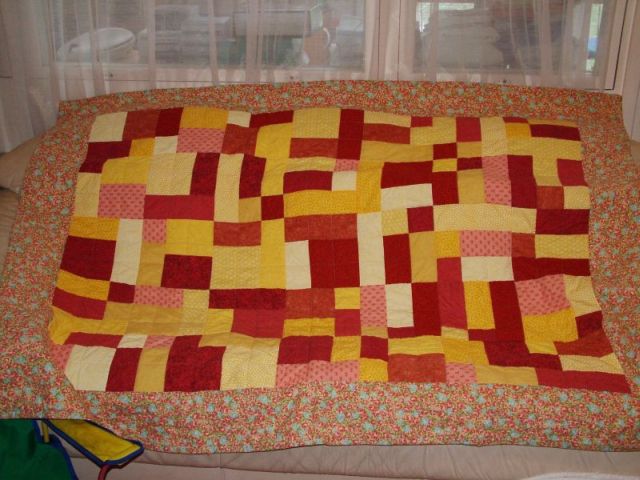 <![endif]>2007/08
I made this for my friends' twin girls. I rotary cut and machine-pieced it. I used cotton batting, and all the binding was hand-stitched. I cut it in two when it was finished, re-bound the raw edges, and attached hand embroidered labels with the girls' dates of birth and birth weight on them. Each half is a large cot size, and when the two cots are side by side, it looks like a whole quilt :-) My mother in law liked it so much, I had to make her a double one in the same pattern and colours.
<![if !vml]>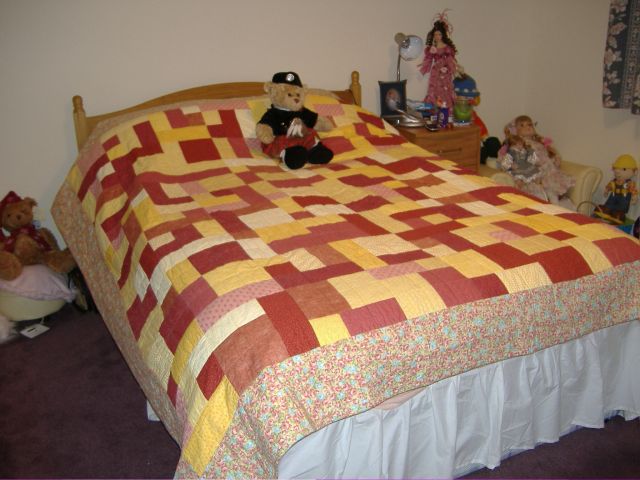 <![endif]>2008
The pattern is called 'Yellow Brick Road'.
<![if !vml]>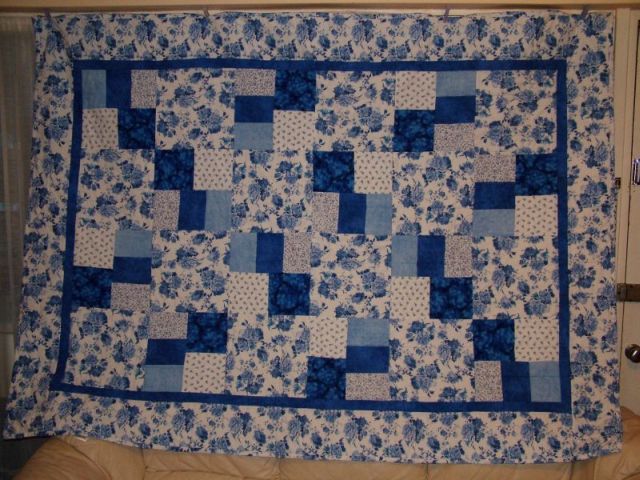 <![endif]>2008
This is the blue quilt I have made in the 'Just Can't Cut It' pattern. It wasn't actually for anyone, I just loved the fabric!
I donated it to Andrew's nursery school, for their fundraising bingo and raffle. They raised over £1200 that night, so I'd say it was a success J
I rotary cut and machine pieced it and used cotton batting. The binding is all handstitched. It is single divan size.
<![if !vml]>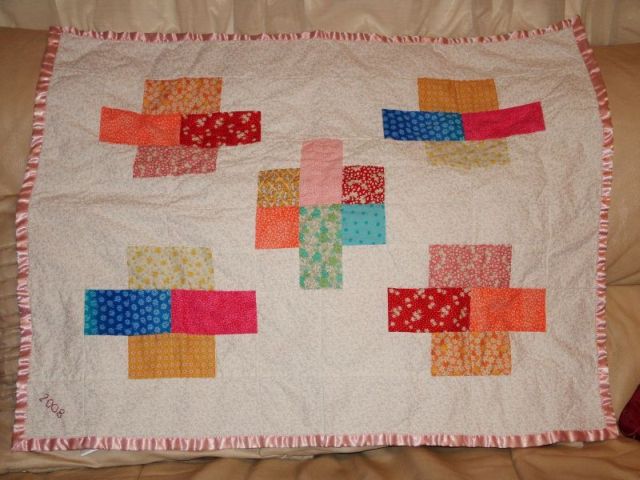 <![endif]>2008
I made this little cot quilt out of leftovers from the 'Cheese and Crackers' design quilts I made for my parents. A bit of pink backing, cotton batting and a satin ribbon binding. I gave it to a friend at Andrew's playgroup, who had just had a little girl (had it been a boy, I'd have used blue backing, and bound it in blue ribbon J  Ironically, I finished this one before finishing my parents quilts, which I kept picking up and putting down, over the period of a year.
<![if !vml]>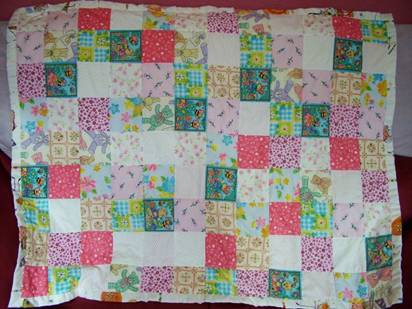 <![endif]>    <![if !vml]>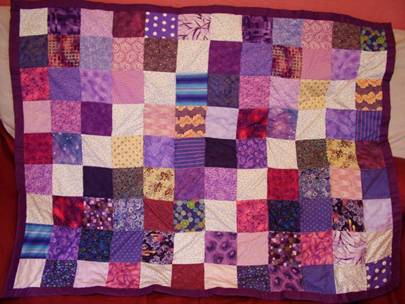 <![endif]>2008
                                            <![if !vml]>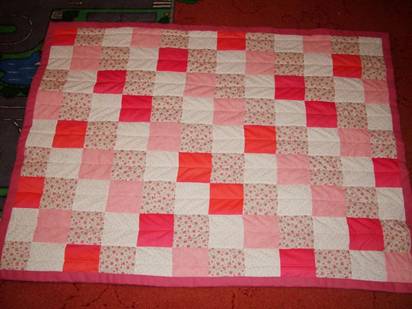 <![endif]>    <![if !vml]>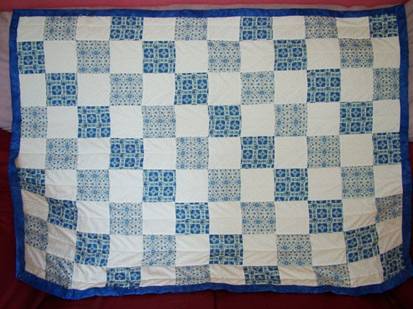 <![endif]>2008
Some of the cot quilts I have made, just for fun and to stay busy. The time consuming bit is the hand-stitched binding.
This next one I call my "Memory Error" quilt J  It's a wallhanging of nine panels, which I made bigger from its original pattern, by putting sashing between the blocks. Each of the blocks is 12" x 12". I hand stitched all the blocks and sashing, and hand embroidered each panel quotation, and I machine quilted the layers. The handstitched binding is black with small white spots, which alas, cannot be made out in this photograph.
<![if !vml]>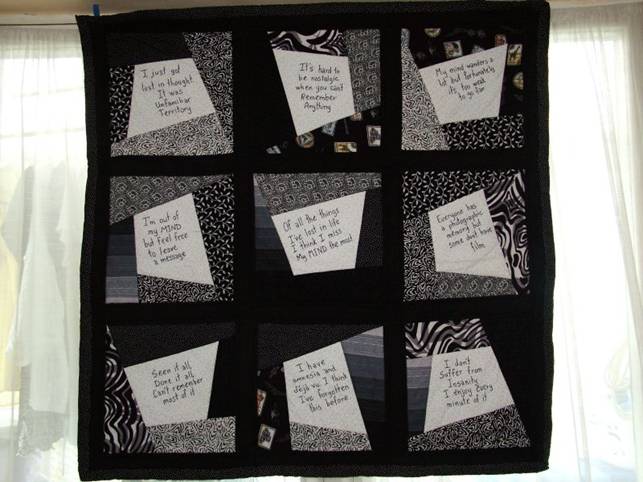 <![endif]>2008
Next came my very first 'paid commission!' which was a double quilt for one for Fiona's friend Natalie's 21st birthday in November 2008,
using the 'Just Can't Cut It' pattern, featuring black cats, handbags and shopping, music and the colour pink :-) I had to order the fabrics especially.
Looks completely different to the previous quilt I made in this pattern
      <![if !vml]>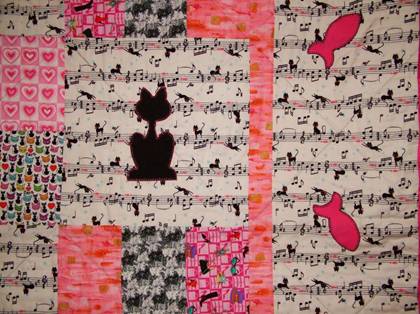 <![endif]>  <![if !vml]>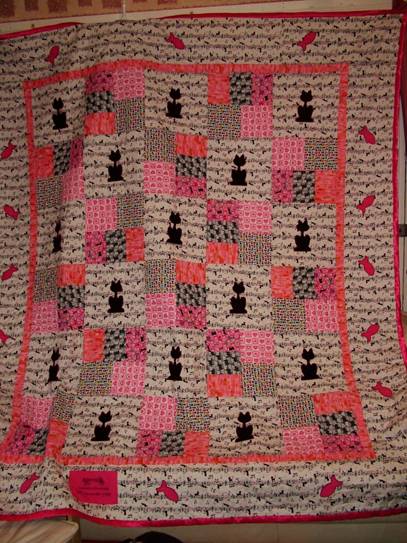 <![endif]>  <![if !vml]>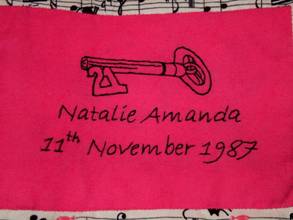 <![endif]>
And then there were two singles for my parents in 'Cheese and Crackers' … each was slightly different as all the blocks were arranged in a different order.
<![if !vml]>
<![endif]>
I made another 'Just Can't Cut It' quilt for Natalie's baby Aiden, who was due in December 2008, but Andrew immediately claimed it, so I personalised it for him:
 <![if !vml]>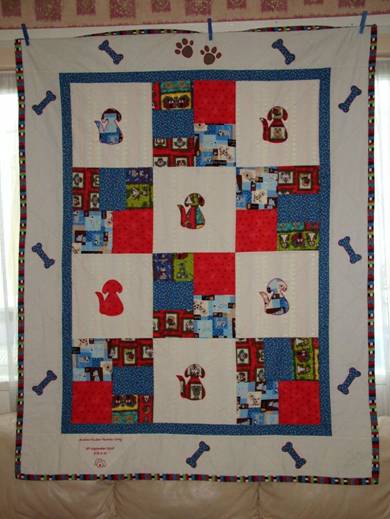 <![endif]>  <![if !vml]>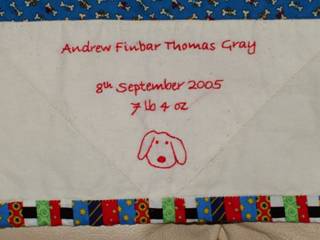 <![endif]>
And I made another for Aiden, which I personalised later, when he arrived  :-)
<![if !vml]>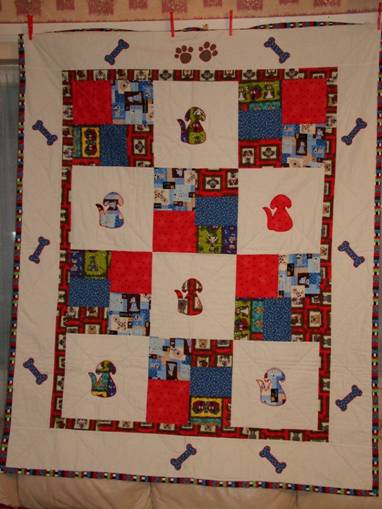 <![endif]>2008
  The only differences are that Andrews' has a central panel in the backing which matches the stripey binding, and a blue bones fabric inner border on the front, whereas the second one has a plain blue backing, and the red dog fabric for the inner border. All the appliqué dogs and bones have been hand-cut and hand-stitched into place. These quilts are just slightly smaller than single bed size. I quilted diagonally, and found it gave a lovely finish, less prone to wrinkling as I sewed. I had only a small number of 'doggy' fat quarters to make these quilts, and was amazed at how far they actually went.
<![if !vml]>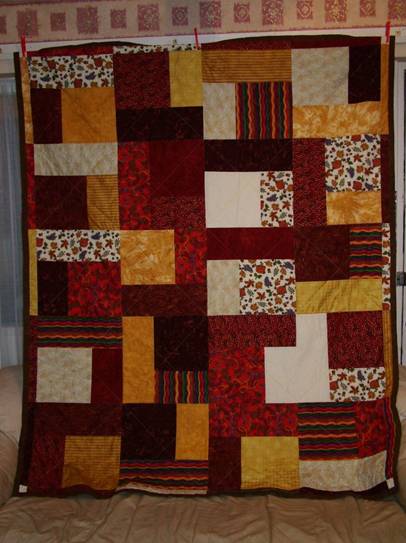 <![endif]>2008
This is a 'Turning Twenty' quilt I made for the high school Christmas raffle.
So called because you take 20 fat quarters (18 x 22") to make the front.
I love this quilt, it was made with such rich colours. The autumn leaf fabric even had some glitter on it. And the gold fabrics, marvellous!
<![if !vml]>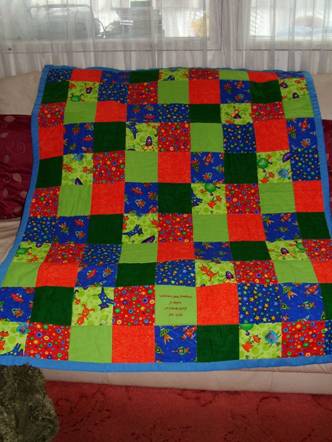 <![endif]>  <![if !vml]>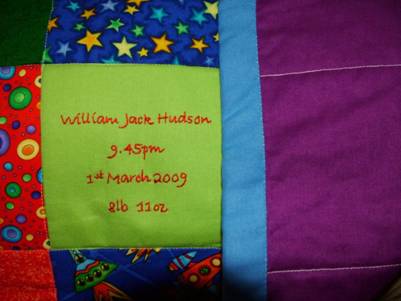 <![endif]> 2009
This is a 'Jelly Bean' quilt. It's got aliens and bubbles and stars, and was made for Fiona's friend, Kirsten, who had baby William.
<![if !vml]>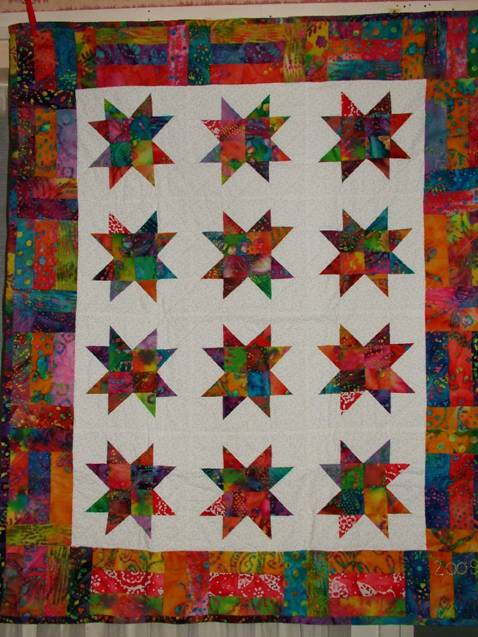 <![endif]> 2009
This is a more difficult quilt pattern called "Stars and Strips". It was made using batik jelly rolls and white patterned fabric.
I made it for my friends' baby, and am making another one for their next soon-to-be arrival (Sept '10)
<![if !vml]>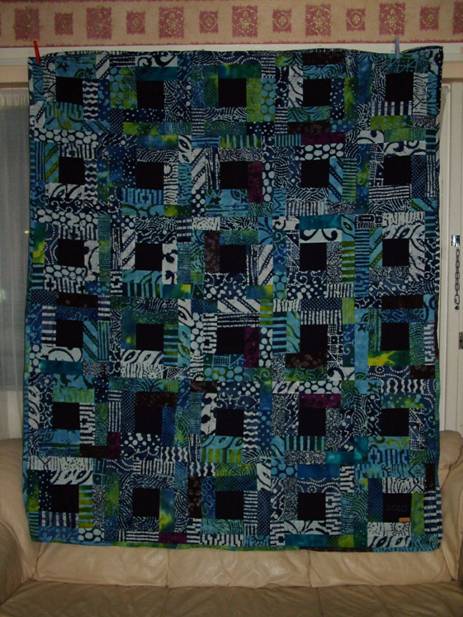 <![endif]>  2010
This pattern is called "Feed Sacks". Made in various shades of blue batik, single bed size.
I backed this one with fleece rather than batting and cotton, making it soft and snugly.
The Wedding Quilt
<![if !vml]>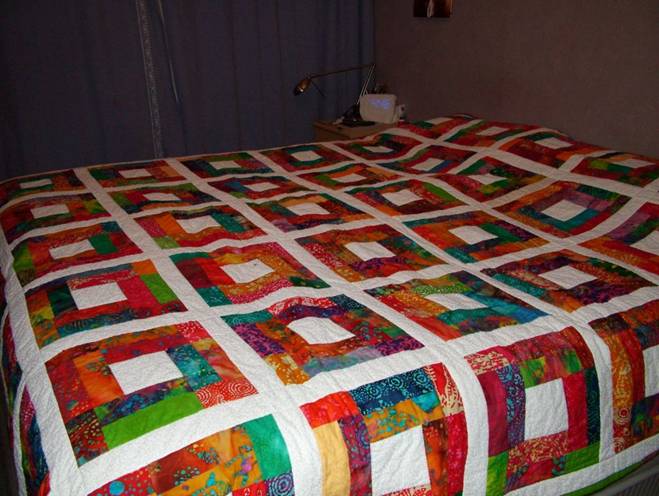 <![endif]>
<![if !vml]>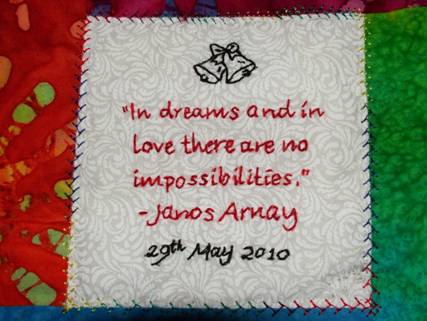 <![endif]>  <![if !vml]>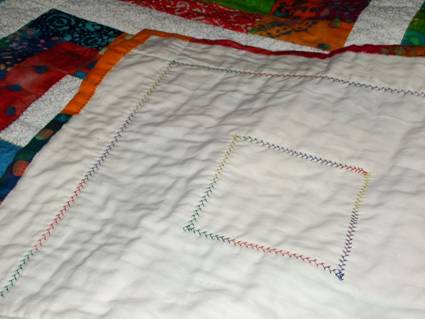 <![endif]> 2010
Here is the same "Feed Sacks" pattern as above, using a double bed size, and with sashing between the panels to make it queen size, for dear friends to celebrate their wedding.
The back was made with a king size cotton sheet (thank you Ikea!), and I thought the multicolour thread just added a wee something to it!
I like to add some embroidery to each quilt to personalise it.
<![if !vml]>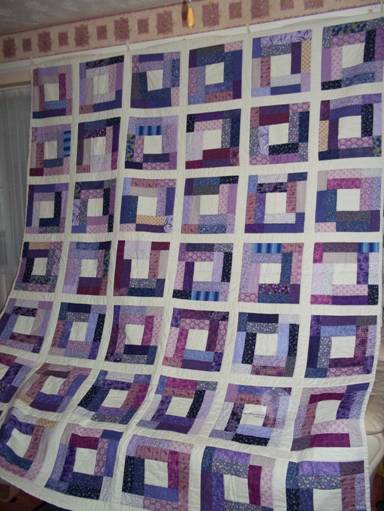 <![endif]>
   <![if !vml]>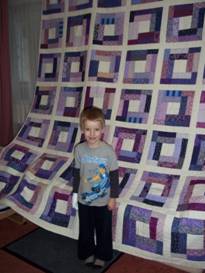 <![endif]>      <![if !vml]>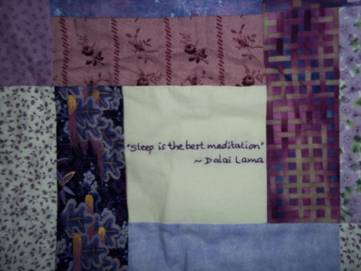 <![endif]> 2010
Another 'Feed Sacks' quilt, this time for my Aunty…
I am pottering around a "Turning Twenty" quilt in bright flowery fabrics for my friend Alison, to say thank you for all her help over the many years. It's taking me a while, I keep getting sidetracked!
I also still have a few hobby quilts to keep me busy - one will definitely be a wall hanging in my upstairs hall, and I have a kit quilt for Caitlin, who wants to try making it with me. It has a lot of cats on it. She likes cats :-)  I now find when I finish a quilt that I am itching to start on another one to keep me busy. Sometimes, like now, I have two or three on the go!  When I'm old and grey, they'll find me buried under a massive pile of quilts, most probably,  LOL!
Last updated 15 October 2010